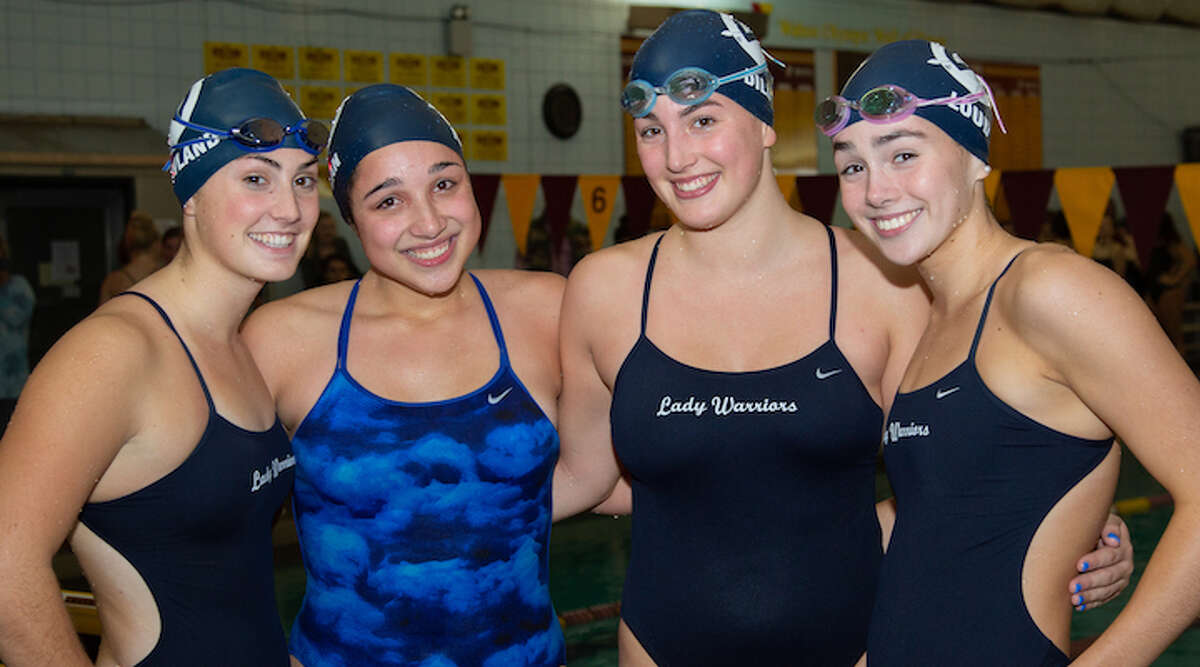 Coming off a nail-biting 95-91 victory over Darien on Tuesday, the Wilton High girls swim team had a much easier time in its next meet, beating St. Joseph, 101-60, on Thursday afternoon at the Wilton YMCA.
The Senior Night victory, which came in the final meet of the regular season, improved Wilton's record to 8-1. The Warriors begin the postseason with the FCIAC championship on Nov. 7 at Greenwich High School.
In the opening event Thursday, the 200-yard medley relay team of Brooke Gardner, Avery Newcomer, Morgan Dill, and Emma Babashak set the tone for Wilton with a first-place finish in a time of 1:59.57. Adding a second-place finish were teammates Julianna Hume, Arisa Cowe, Liela Hastings, and Avery Rowland (2:04.44).
Olivia Crisafulli won the 200 freestyle, making her final touch in 2:12.94.
Anais Wentzel was first in the 200 individual medley (2:24.26), with teammate Isabel Pravia placing second (2:42.09).
In the 50 freestyle, Hastings sprinted to a first-place finish in a time of 27.56.
Taylor Loud took the top spot in the 100 butterfly, clocking in at 58.66. Wilton also captured second and third in a close finish as Hastings narrowly beat Madeline Pennino to the wall; they had times of 1:07.23 and 1:07.78, respectively.
In the 100 freestyle, Gardner was tops in 1:01.35 and Hume was a close second in 1:02.28.
Pravia then won the 500 freestyle in a time of 6:15.92.
With a victory assured, Wilton swam exhibition (no points) in three of the last four races. The Warriors' final points came in the 100 breaststroke, as Cowe finished first (1:19.12) and Dill was second (1:20.28).
Wilton's fastest time (1:51.03) in the 200 freestyle came from Dill, Loud, Rowland, and Mackenzie McCormick.
Humme and Pennino had the fastest two times (1:08.06 and 1:12.34, respectively) in the 100 backstroke, for the Warriors.
In the 400 freestyle relay, Rowland, Loud, Dill and Ava Kaplan led Wilton with a time of 4:11.55.
Notes: Wilton's seniors — Cowe, Dill, Hastings, Pauline Hendricks, Hume, Kaplan, Loud, McCormick, Rowland, and Katie Stevenson — were individually recognized by head coach Todd Stevens during the meet's diving break.