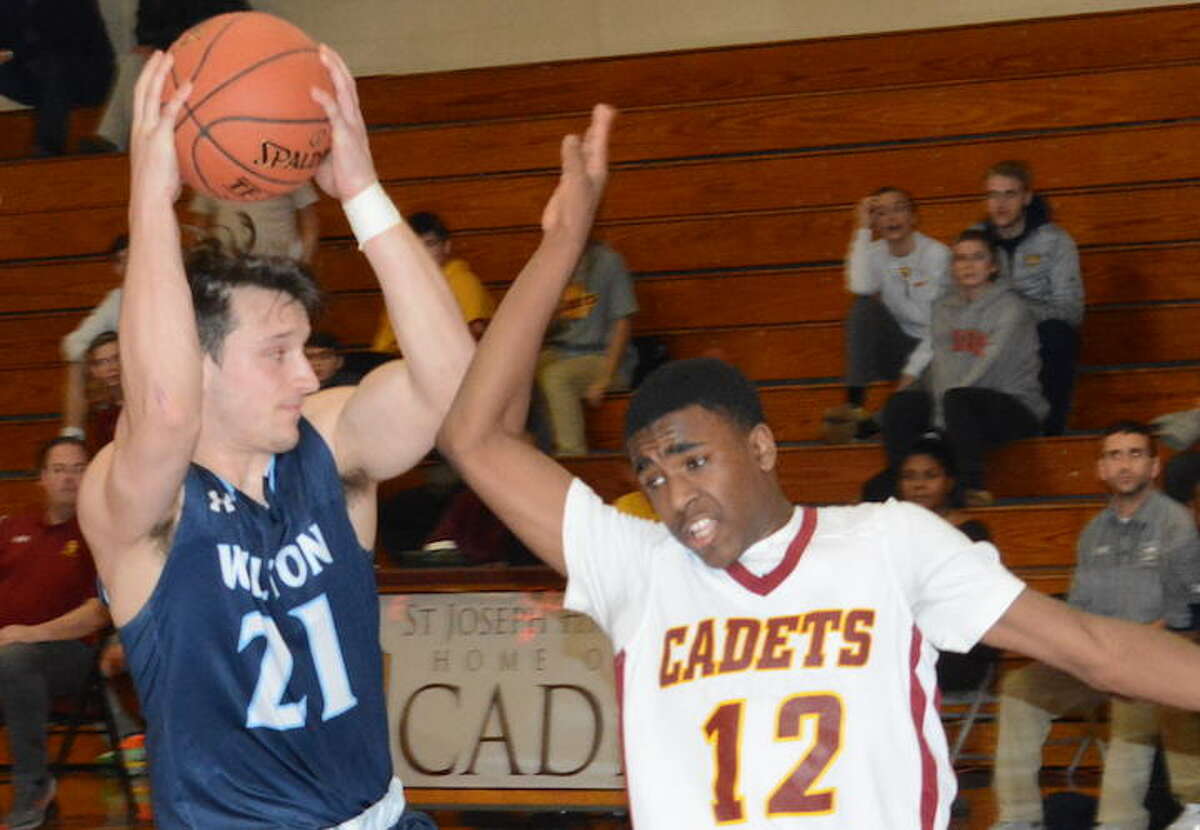 After seeing its 19-point halftime lead whittled down to four points, the Wilton High boys basketball team was able to come away with a 71-66 win over St. Joseph in Trumbull on Monday night.
With the victory, Wilton improved to 7-2 overall.
The Warriors had a trio of players — Nick Kronenberg, Ryan Schriber and Andrew Smith — with 16 points apiece. Ryan Biberon added nine points, and Zayvion Eusebe (seven), Tucker Walden (four) and Kyle Hyzy (three) also scored for Wilton.
Smith grabbed six rebounds and Hyzy had five. Eusebe handed out four assists and Walden had three assists.
Kronenberg hit a trio of 3-pointers in the first quarter as the Warriors jumped out to a 19-12 lead. Wilton then put up a whopping 27 points in the second period, opening a 46-27 halftime lead.
Wilton did a lot of its damage by using its defense to push the tempo.
"The game plan was to attack with the 1-3-1 zone and man-to-man full court," said Wilton coach Joel Geriak, whose squad forced turnovers and scored in transition.
"We went 10 deep," said Geriak, adding that an advantage in roster depth helped the Warriors take the early lead.
St. Joseph had a chance to pull within single digits midway through the second quarter, but the Warriors made a stop on defense and Eusebe finished on the break for a 31-19 lead with 4:16 left in the half.
That sparked a 17-8 run to close the second quarter.
Smith's shot from beyond the right elbow of the 3-point line capped a 9-0 run and made it 38-19 with three minutes remaining before the break.
But St Joseph (6-2) tightened the screws defensively at the start of the second half and went on a 12-0 run to cut Wilton's lead to 46-39 just three minutes into the third quarter.
Wilton had to work hard for its points and its first four of the second half came via free throws, two of which followed Zach Pozzi's steal.
The Warriors got their first basket nearly six minutes into the period, when Kronenberg took a pass from Eusebe and banked the ball off the glass for a 52-42 lead.
Wilton withstood the Cadets' push and got some late-period points to carry a 55-46 lead into the fourth quarter.
"We knew they were going to come out strong — just not that strong. We had great resiliency coming back to finish in the third," Geriak said.
St Joseph got back to within seven before Smith hit a 3-pointer from straight away, then drove the lane for a finger roll.
Wilton forced a turnover and added to the lead, making it 62-48 early in the fourth.
The Cadets had some more left in the tank. They forced turnovers, broke the press, and clawed to within 62-55 with 3:47 remaining.
Schriber made both ends of a one-and-one to end a 7-0 run and give Wilton a 64-55 lead.
The Cadets chipped away and got to within four at 65-61 with 1:06 remaining when Dan Tobin scored following a mid-court steal.
But Schriber's basket put Wilton ahead by six points with 48 seconds to go and the Warriors closed out the victory
"We came out with crazy energy. We were pushing the ball up the floor, getting layups, and playing good defense," Schriber said. "They kind of flipped the switch and got to within four. We just pulled through at the end, hit some clutch free throws,  and stopped turning the ball over."
"Any win in the FCIAC on the road is a good win," Geriak added.