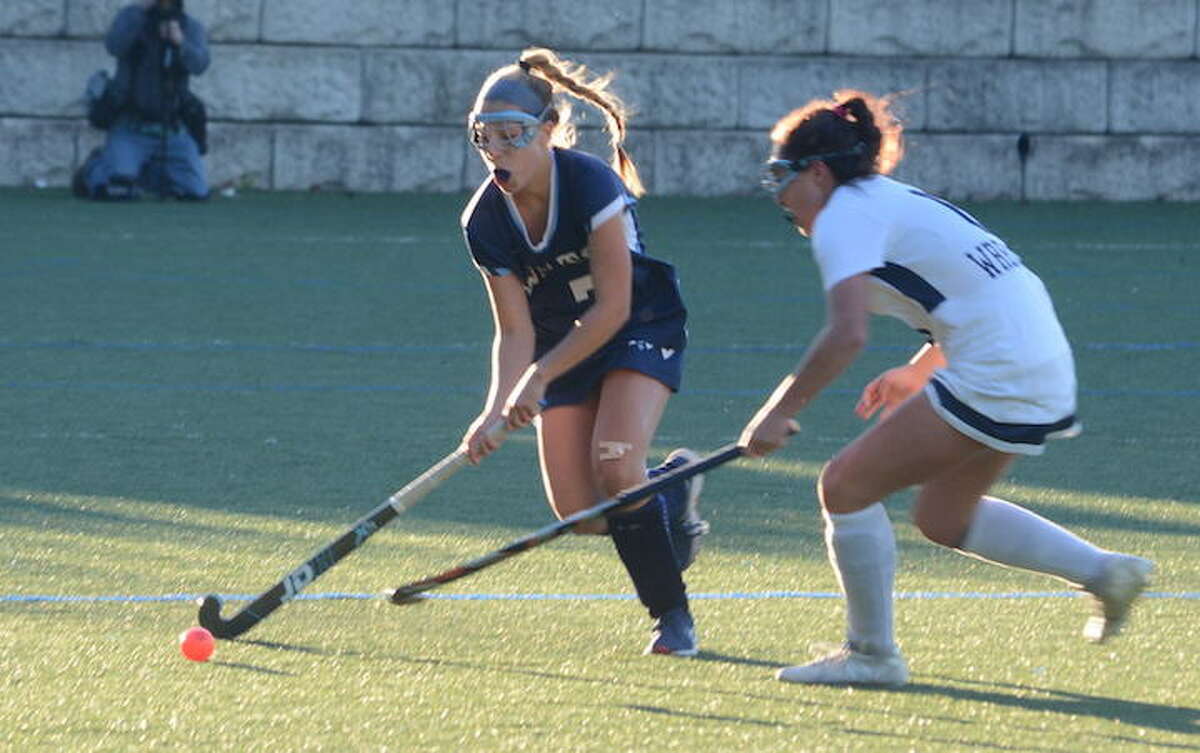 After crushing most of its opponents on the way to a 10-0 start, the Wilton High field hockey team suffered two losses in three days.
The Warriors fell to Greenwich, 6-2, at home last Wednesday and to Staples, 4-1, on Friday in Westport.
The defeats dropped Wilton to 10-2-0-0 with four regular-season games remaining. Three of those contests are against teams with losing records.
But head coach Liz Pisko and company believe they stand to gain more from the tougher matchups, win or lose, than the lopsided victories.
"It's good to be challenged as a team. It's nice to face some adversity and move past it. It's only going to make us stronger," said Wilton captain Emma Rothkopf after the loss at Staples.
Wilton scored first in this contest and was tied 1-1 with the unbeaten Wreckers at halftime.
Nina Sylvester tipped the ball home, off an assist from Maddie Schattenfield early in the first half, as the Warriors became just the fourth team to score on the stingy Staples defense this fall (all four have been held to that lone tally).
Staples (12-0-0-0) scored its first of two goals off penalty corners when Kyle Kirby found the back of the cage late in the opening half.
The Wreckers dominated possession throughout much of the second half and, following a go-ahead goal off the stick of Grace Cooper, got a pair of insurance goals from Madeline Ambrose.
Staples compiled 18 corners to just three for the Warriors. Wilton goaltender Megan Kaeyer stopped 13 Staples shots.
"You need these, every once in a while, to make you stronger,"  said Pisko. "Competition's good. It's what makes us stronger."
Wilton's coach was pleased with her team's opening-half effort.
"We had a very, very strong first half," said Pisko. "The girls came out enthusiastic and focused and it showed in their level of play."
"Our passing was fantastic. We were moving the ball really well and utilizing the width of the field. We just need to capitalize on more opportunities," Pisko added.
Notes: Wilton received strong defensive efforts from several players, including Sylvester, Cassidy Costello, Kimmy Castano, Remi Taubin, and Robin Clasby.
Staples has been held to four or fewer goals just four times this fall.
Clasby and Izzy Rende scored for Wilton in the 6-2 loss to Greenwich (9-4-0-0) last Wednesday. Rothkopf had an assist for the Warriors.