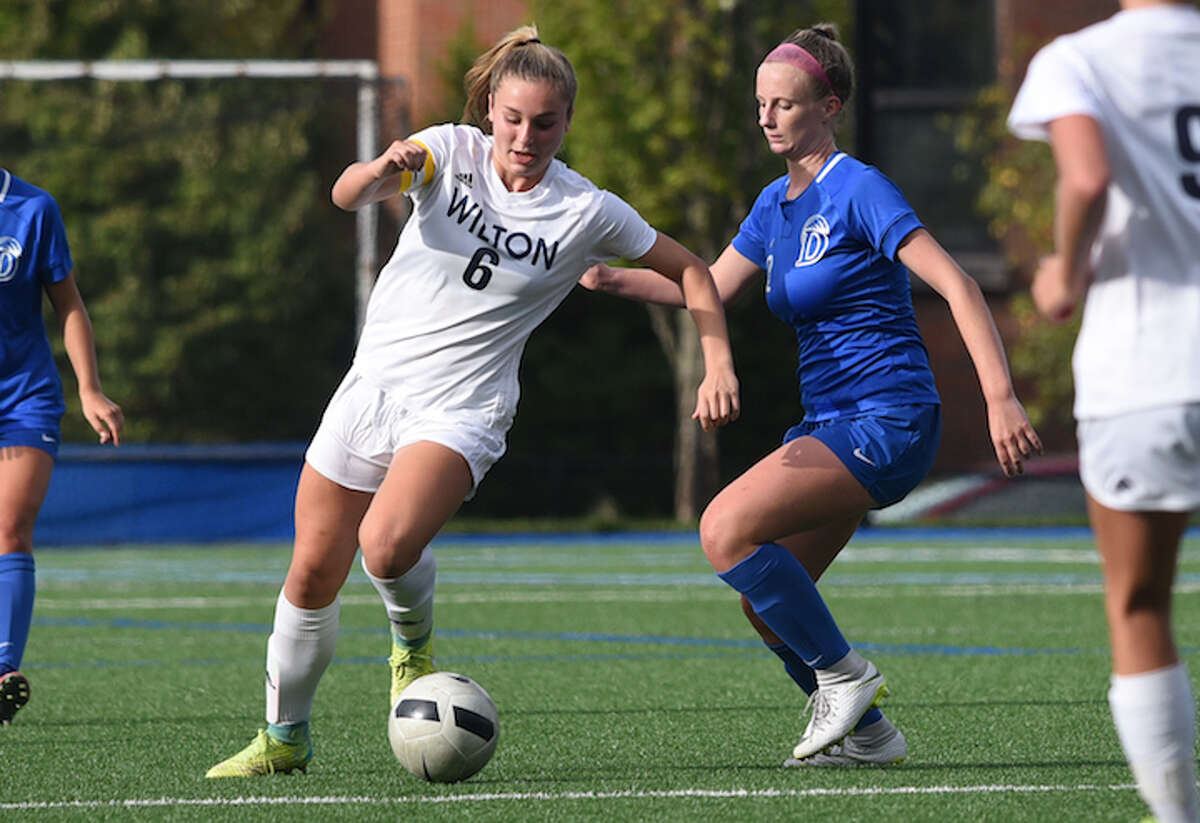 The Darien girls soccer team hasn't faced many deficits during the past two weeks of the season.
So when Wilton's Lindsay Groves scored on a long free kick in the 35th minute of Thursday's game, it was a splash of cold water for the Wave.
"In the first half, we were just slightly off in the connection, not quite getting the touches we needed to," said Darien's Ellen Harnisch. "And after that first goal, it was a real wake-up call."
And the Wave answered the alarm.
Senior co-captain Eilanna Dolan scored the equalizer in the 60th minute, and Harnisch netted the winner with 9:59 to play as Darien defeated the Warriors, 2-1, at the Darien High School oval.
Darien improved to 5-1-1 while Wilton dropped to 2-2-1.
"We could be better and we should be better," said Wilton head coach Renato Topalli. "It was frustrating. It wasn't our best performance and I think we got out-worked when you look back at everything. Credit it to Darien; they worked hard, and there were moments that we did, too; it just wasn't enough."
Both teams had solid performances from their backlines, with freshman keeper Erynn Flynn and senior defenders Grace Rava and Alex Brichkowski leading Wilton.
"In the back, I thought we did well," Topalli said. "We could've done a little better defending up top on the midfield to relieve some of the pressure on the back. But our backline played well and fought hard."
The Warriors had a slight advantage during the first half, as the teams went back and forth and spent a lot of time in midfield.
Groves, a senior co-captain, broke the scoreless tie after a whistle along the sidelines gave her a free kick in the Darien third. Her kick sailed to the goal and eluded Maniscalco to make it 1-0 for the Warriors.
Darien came out flying in the second half, and tied the score with 20:28 remaining when Dolan fired a direct kick around the Wilton wall and inside the right post.
The winning tally came in the 71st minute, as Darien freshman Ceci Stein picked the pocket of a Wilton defender and got the ball ahead to Harnisch. With Floyd out in front, Harnisch was able to take her shot and put it home.
For the Warriors, the loss was a bit more frustrating because they had opportunities to widen the gap and couldn't capitalize.
"We definitely had a couple of chances that could have changed the game, and we didn't get it done," Topalli said. "They had a beautiful set piece and then we had a little mixup there at the end to give them that second goal. It's soccer. We had a chance to make it 2-0 and we didn't, so credit to them. They stayed mentally tough."