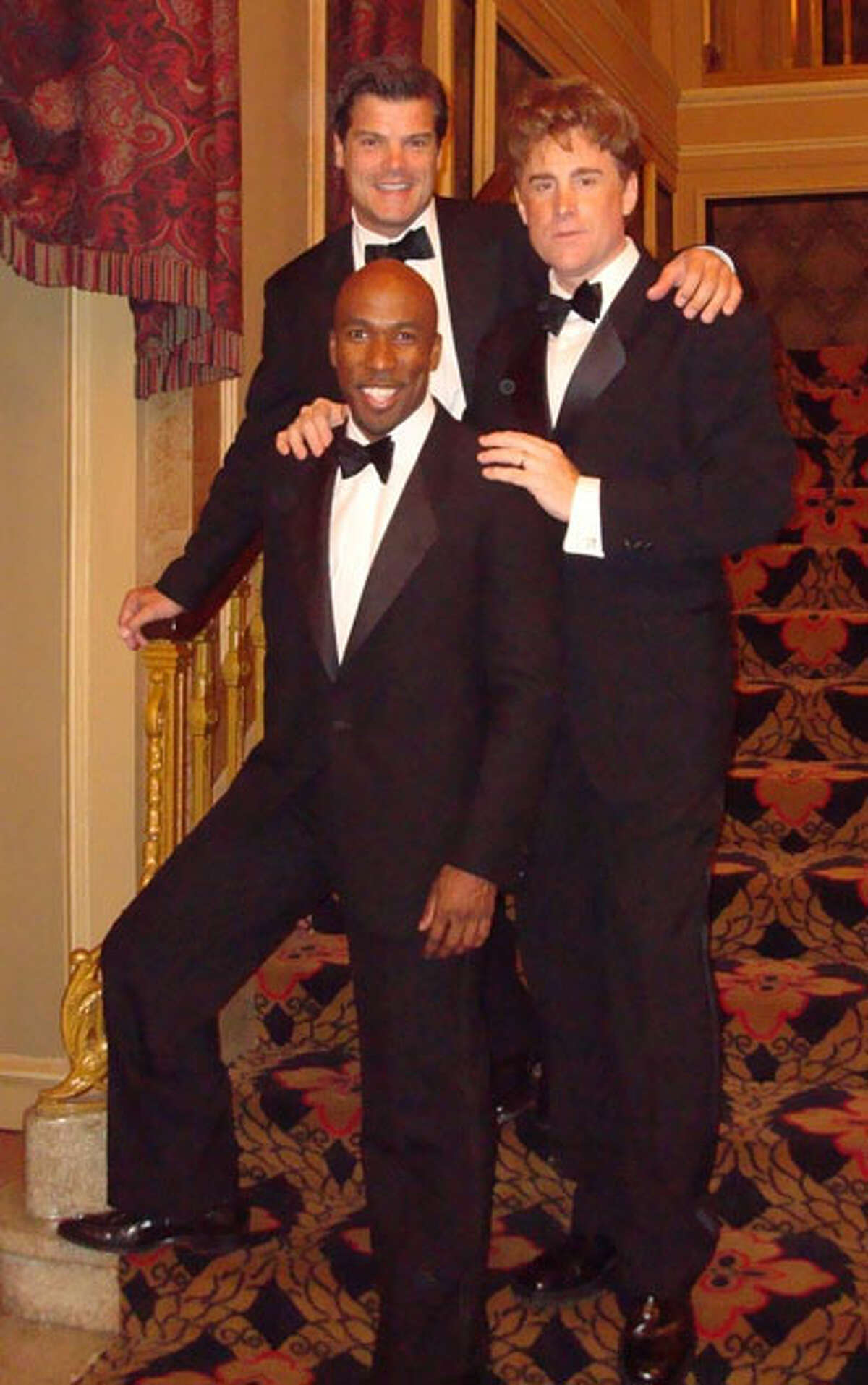 What elevates singers to the upper echelons of entertainment isn't just their voice. It is the way they interpret a song, their showmanship, and their connection not just to an audience but to every person in their audience, whether in an intimate cabaret setting or a stadium.
Three who reached the height of their fame in the 1960s — Frank Sinatra, Dean Martin and Sammy Davis Jr. — did so not only as solo acts but as an ensemble known as the Rat Pack.
The Ridgefield Symphony Orchestra — with guests Sal Viviano, Nat Chandler and Eric Jordan Young — will perform a tribute concert to the Rat Pack Saturday, March 7, 8 p.m., at the Clune Center at Wilton High School on Danbury Road.
The stage will evoke the Sands Casino in Las Vegas as Sal (Frank), Nat (Dean) and Eric (Sammy) turn back the clock with Fly Me to the Moon, That's Amore, The Lady is a Tramp, The Candy Man and more.
"They're iconic. You have to be living under a rock not to know the music of Sinatra, Dean and Sammy," Nat Chandler said in an interview with The Bulletin last week.
They are not impersonators, he stressed, it is more of a tribute show. "A Vegas-style show would be a nice way to characterize it."
Just as the originals had their comic routines that led into songs, so too, do these Rat Packers.
"You have to suspend disbelief," Mr. Chandler said. "Their world was a simpler world. The jokes were corny, the little double entendres were much more scandalous in the day."
A search of YouTube turns up a Sinatra-Martin exchange like this. "How do you make a fruit cordial? Be nice to him."
Frank tells Dean, "you've got a beat like a cop."
"If I do say so, we are great singers and good actors and we pull off the material well," Mr. Chandler said. Impersonators can't sustain a two-hour show. "You have to have more depth and substance," said the actor whose career has spanned Broadway, the concert stage and opera.
"We open the show with a reverential tribute to step into the shoes of these icons and ask the audience to come along on the ride with us as we sing the signature hits and cut up on stage."
Mr. Viviano, who specializes in Sinatra territory, said, "the great part about doing an evening tribute to Frank is the great selection of songs."
Mr. Viviano, who has performed on Broadway, in films and in concert, feels connected to Sinatra because he's had "the good fortune to record for many of the same songwriters." He also worked with Skitch Henderson, who accompanied Sinatra in his day. "It was he [Henderson], when I was in Broadway shows, who said I should look into this music. 'You've got to start singing Sinatra stuff because that's your wheel house.' I took his advice."
The show is based on the Sinatra-Matrin-Davis performances at the Sands Hotel in Las Vegas. "There's great music and great laughs, inhabiting these personalities for the evening. … We enjoy each other in the heightened reality of walking in their shoes and letting loose in that style," Mr. Viviano said.
One of the most difficult aspects of this show, he added, was selecting the songs. There are thousands. "I could spend 15 hours singing and someone would say, 'but you didn't sing …'"
The third member of the "Pack" is Eric Jordan Young, described by Mr. Chandler as "an expert dancer and singer," who has a one-man musical Sammy & Me. He has also appeared on stage as Billy Flynn in the Broadway production of Chicago, Seussical the Musical, Ragtime and The Look of Love, as well as on Ugly Betty and Law and Order: Criminal Intent on television.
"Giving the music the royal treatment" will be the Ridgefield Symphony Orchestra under the direction of Maestro Jerry Steichen. There are two versions of the show, Mr. Chandler said, one for full orchestra and a Big Band version.
"This is going to be the Big Band version. You will get a full complement of strings that you don't get in a band … and still accomplish the same rhythmic jazzy effect of the songs."
Tickets: ridgefieldsymphony.org.