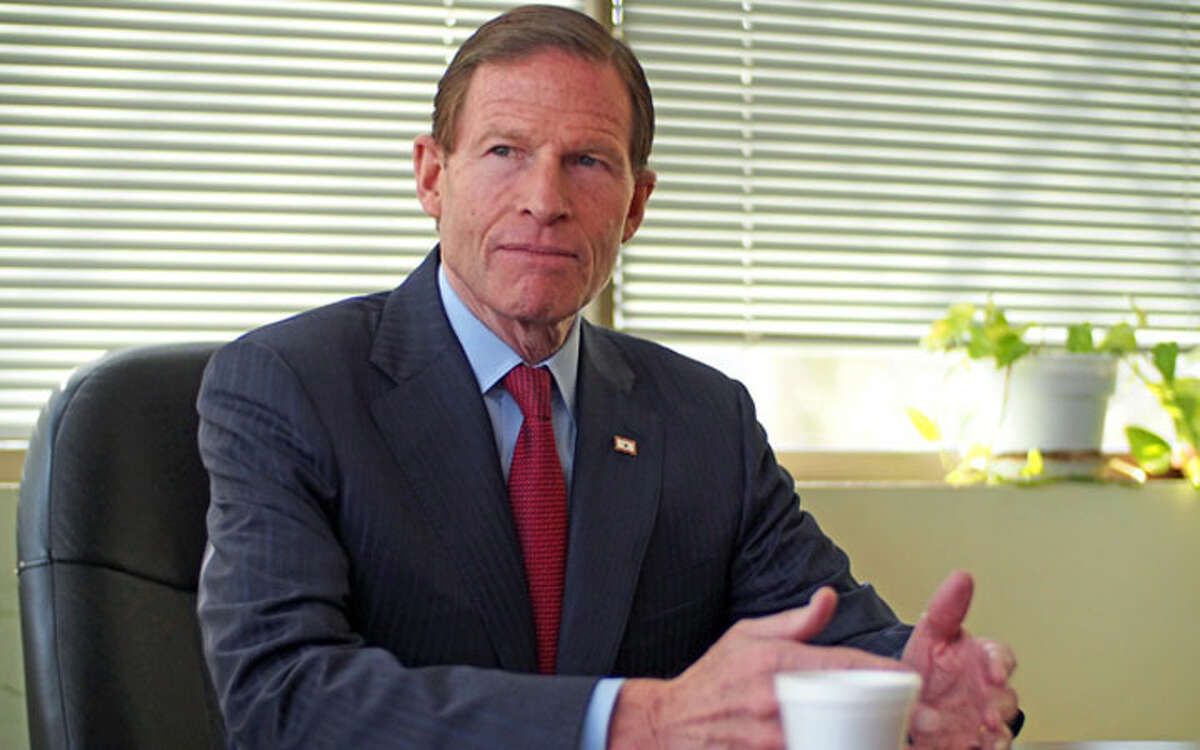 More than 270 people are killed at railroad crossings each year, including six on Metro-North trains this year. U.S. Sen. Richard Blumenthal says there is technology to prevent more deaths.
Earlier this year a Harlem line train crashed into an SUV in Valhalla, N.Y., killing five on the train and the SUV's driver. In 2012, a Danbury branch line train collided with a car in West Redding, killing the car's driver and a passenger. There were also two other derailments in the past few years.
Mr. Blumenthal (D-Conn.) is proposing a bill for more funding to make improvements to rail safety, he told editors of Hersam Acorn Newspapers at a meeting at the company's editorial offices in Shelton last Thursday, Feb. 19.
Rail grade crossing accidents account for more than 2,000 crashes and collisions every year in the United States, he said, including more than 1,000 injuries and an average of 273 deaths. Connecticut's main New Haven line does not have any rail grade crossings — where cars travel over the tracks — but its spur lines of New Canaan, Danbury and Waterbury do have rail grade crossings.
"The important point is, they're preventable," said Mr. Blumenthal. "Every three hours, a train hits a pedestrian or a car at one of these rail grade crossings. Now, half of those rail grade crossings are passive, which is to say they have no gates coming down, no bells, no warning lights, they simply have a stop sign — a passive warning."
Many of these passive crossings are at freight crossings in the Midwest.
However, passive crossings aren't the only crossings that have fatal accidents. The Long Ridge Road rail crossing in West Redding was the location of a fatal car accident.
On Dec. 30, 2012, a southbound Metro-North train traveling 50 mph, the line's speed limit, hit an automobile carrying four passengers on the tracks around 1:20 p.m. The train was not carrying any passengers.
At the time of the accident, the railroad crossing had only flashing lights and bells on the crossbucks — no crossing gates. Crossing gates were installed four months after the accident.
Two of the four passengers were killed as a result of the accident. The two surviving passengers, James Redmond and Fakeem Morning, have filed a lawsuit against Metro-North. That suit is still pending.
Mr. Blumenthal said increasing safety might have helped in accidents like the one in Valhalla on Feb. 3 if there were better engineering, education and enforcement.
With engineering, Mr. Blumenthal said, there could be more distance between tracks and crossing gates, better visibility, better lighting, and better warning to trains.
People should also be educated on the engineering and technology.
Mr. Blumenthal visited the Valhalla train crossing where a woman's vehicle was stuck between the crossing gates and was struck by an oncoming commuter train. The woman of the vehicle and six passengers on the train were killed.
While visiting the site with a National Transportation Safety Board member, Mr. Blumenthal asked what the woman could have done.
"He said if she had backed up the gate would've released. Until that moment, I had no idea myself," Mr. Blumenthal said.
He added that there is a variety of technology available but most of the technology railroads use was invented in 1872.
Under his bill, Positive Train Control (PTC) would be an added improvement to technology. PTC is described as a kind of GPS for trains, and part of the system would enable automatic slowing down or stopping of trains if going too fast at certain points on the track, Mr. Blumenthal said.
A similar concept would be used to slow down the train if something was on the tracks, he said.
"If the train is slowed because of a person being on the tracks, a life is saved. It may be well worth the cost," said Mr. Blumenthal.
Mr. Blumenthal and U.S. Sen. Charles Schumer (D-N.Y.) plan to introduce the bill later this year.
In addition to engineering and education, Mr. Blumenthal said, greater enforcement is needed.
"The Federal Railway Administration says 95% of these rail grade crossing collisions occur because of driver error," he said.
A suggestion he had to deter some driver error would be to install the kinds of cameras used at toll booths that can record if someone goes through the warning bells. Someone who went through the warning bells and tried to "beat the gate" would get a significant penalty.
"People would be deterred pretty quickly from trying to beat the gate — not everyone — which is why engineering, education, enforcement, the three E's, as we call them," he said.
"Safety has to come first. Investment in safety and reliability has to match the need, and, of course, I want to emphasize, on-time performance is not conflicting with safety."
Trust and confidence are key words Mr. Blumenthal said he wants riders to have in taking the train.
"Because ultimately those riders will use the railroad, increase ridership, they'll enable more revenue for the railroad, they'll also encourage and enable more investment with those revenues, so it's a virtuous cycle," said Mr. Blumenthal.