This is a carousel. Use Next and Previous buttons to navigate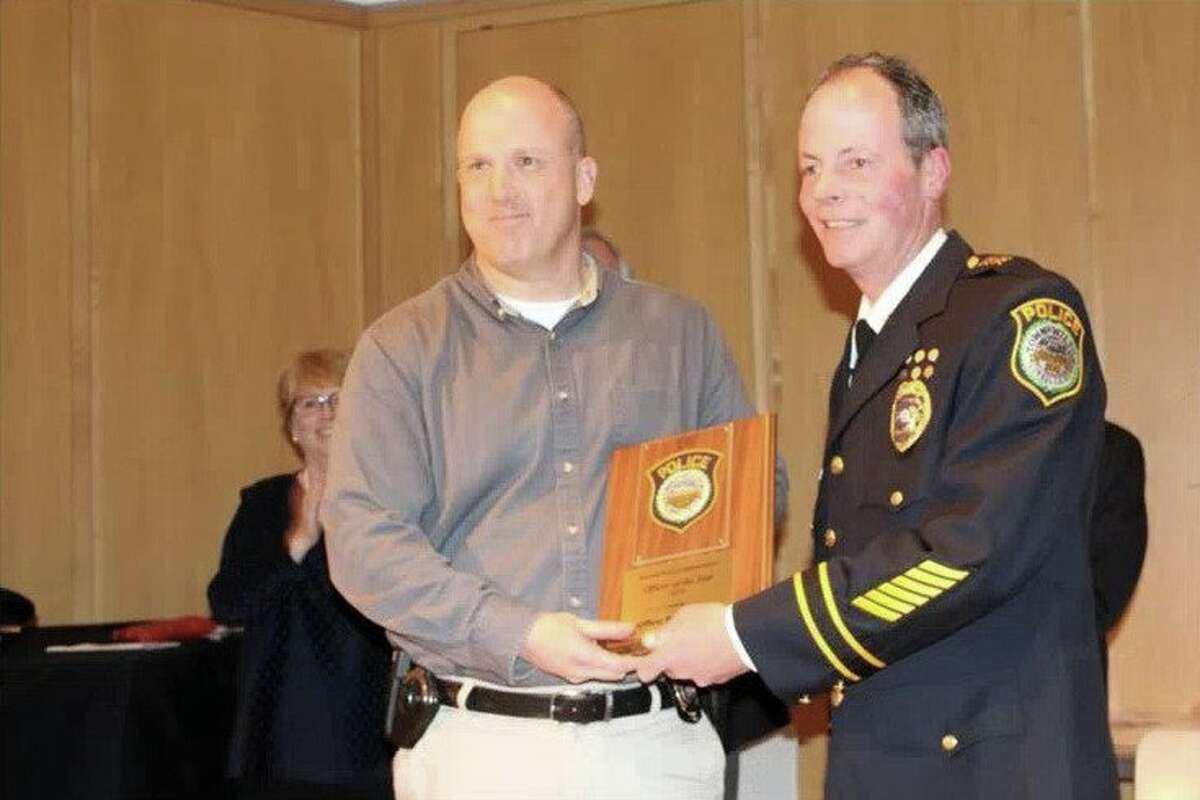 Wilton Library's Brubeck Room was filled with members of the police department, town residents and town officials Tuesday afternoon for the annual Police Awards ceremony.
For the 17th annual Police Awards, a familiar face in town was awarded Officer of the Year. Police Chief John Lynch said he was proud to name School Resource Officer (SRO) Richard Ross as Officer of the Year.
"I will personally vouch I've known Rich for a long time. He does a wonderful job and the schools really appreciate it," Lynch said.
Ross began his career in the Wilton Police Department in March 1999 and began serving as a SRO in 2001. Lynch said Ross was described by his colleagues as an unsung hero in the police department.
"This officer conducts investigations in a complete and thorough manner," Lynch said.
He added that Ross was understanding of the young population he was working with. Knowing this he has exemplified compassion and discretion in determining when a juvenile should be referred to court, Lynch said.
"A recurring theme in the nominations we received for this officer was the endless assistance he provides to our department patrol officers and supervisors on all matters involving juveniles," Lynch said.
Ross was described as being a tremendous resource to the community and has represented the department with the Wilton Youth Council, the Wilton schools' District Emergency Operations Committee, and other groups.
"As a member of these teams this officer is often called upon for his advice," Lynch said.
First Selectwoman Lynne Vanderslice said she was happy to be in attendance for the 17th annual Police Awards.
"This is a very high performing police department and the residents of the town know that," she said.
She noted that the department received a 90% approval rating in a recent survey of residents.
In addition to Officer of the Year, other awards were given throughout the ceremony.
School Resource Officer Diane MacLean was named Community Police Officer of the Year. The award is granted to an officer who is distinguished by his or her actions involving the community and shows integrity, respect and professionalism. MacLean has participated in numerous community events such as Coffee with a Cop and Shop with a Cop.
"For over a decade this officer has been a leader in the department's efforts to raise funds for Special Olympics," Lynch said.
MacLean has also become a recognizable and comfortable face for the Wilton School District, he said.