This is a carousel. Use Next and Previous buttons to navigate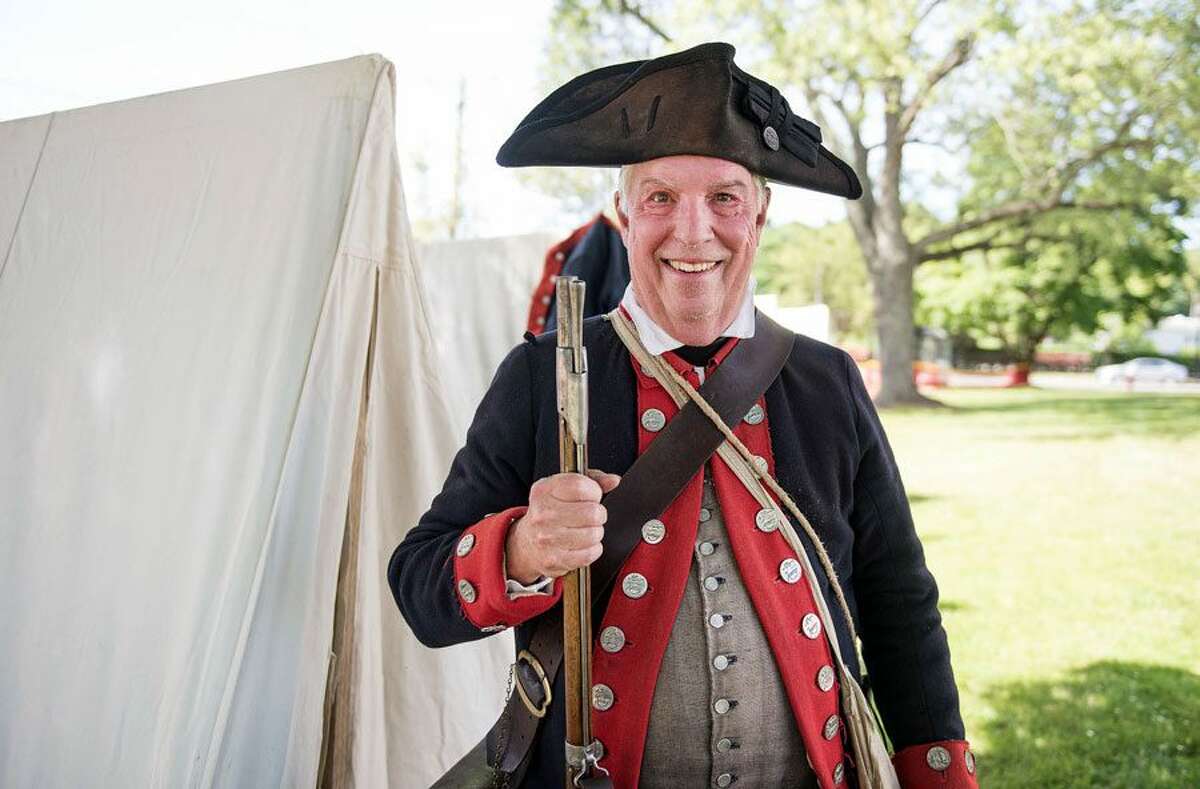 Roger Smith wears a number of hats, literally and figuratively.
A 30-year resident of Wilton, the retired businessman is a volunteer handyman for Stay at Home in Wilton where he helps seniors by doing home repairs they can't otherwise afford or do for themselves.
He is also a volunteer at Ambler Farm where he works in the production garden and shows visiting children how vegetables are grown.
Smith can also be seen wearing a tricorne, a three-pointed military hat worn by soldiers in the 18th century during the American Revolution.
He proudly dons his tricorne, as well as full Colonial military gear, when participating in reenactments as a member of The Brigade of the American Revolution, a nonprofit living-history association.
The Brigade sets up camps at events across the country with the goal of educating the public about the American Revolution and the Colonial period.
Smith and the Brigade most recently appeared at Living History Day in Bethel on June 8, where reenactors camped out on the lawn at the town's municipal center. Children got a taste of military life as soldiers led them in musket drills and tactical exercises. British and American armies then engaged in a skirmish with artillery including a three-pound field cannon. "There was a lot of smoke and noise," Smith said.
As a member of the 3rd New Jersey Regiment and 5th Connecticut Regiment, Smith has been doing Colonial reenactments for 45 years. "My musket is getting heavier and heavier," he said.
In past years, Smith portrayed an American Revolution colonel in reenactments. But in Bethel, he was reduced to the rank of private. "To prevent there being all chiefs and no Indians, the Brigade's board of directors limits the number of officers. So, I am a private at this time," Smith said.
As a reenactor, Smith enjoys teaching people what it was like to be an American soldier during the Revolution. "Soldiers faced extreme hardships giving their time and energy to fight the British," he said.
Among those hardships were shortages of basic supplies such as food, weapons, and blankets. At the Bethel reenactment, a surgeon showed how American soldiers suffered due to limited medical supplies.
Smith conducted demonstrations of flintlock muskets and flintlock rifles, showing people how to use them. "The musket was very inaccurate. The rifle was more accurate, but was slower," he said.
In his blood
It's no surprise Smith enjoys Colonial reenacting, you might say it's in his blood.
He was raised in Lebanon, Conn. — just south of Willimantic — a major base of American operations in the Revolution. He also had a number of relatives that fought in that war. "I saw a reenactment in Lebanon, that's how I got interested and started doing it, too," he said.