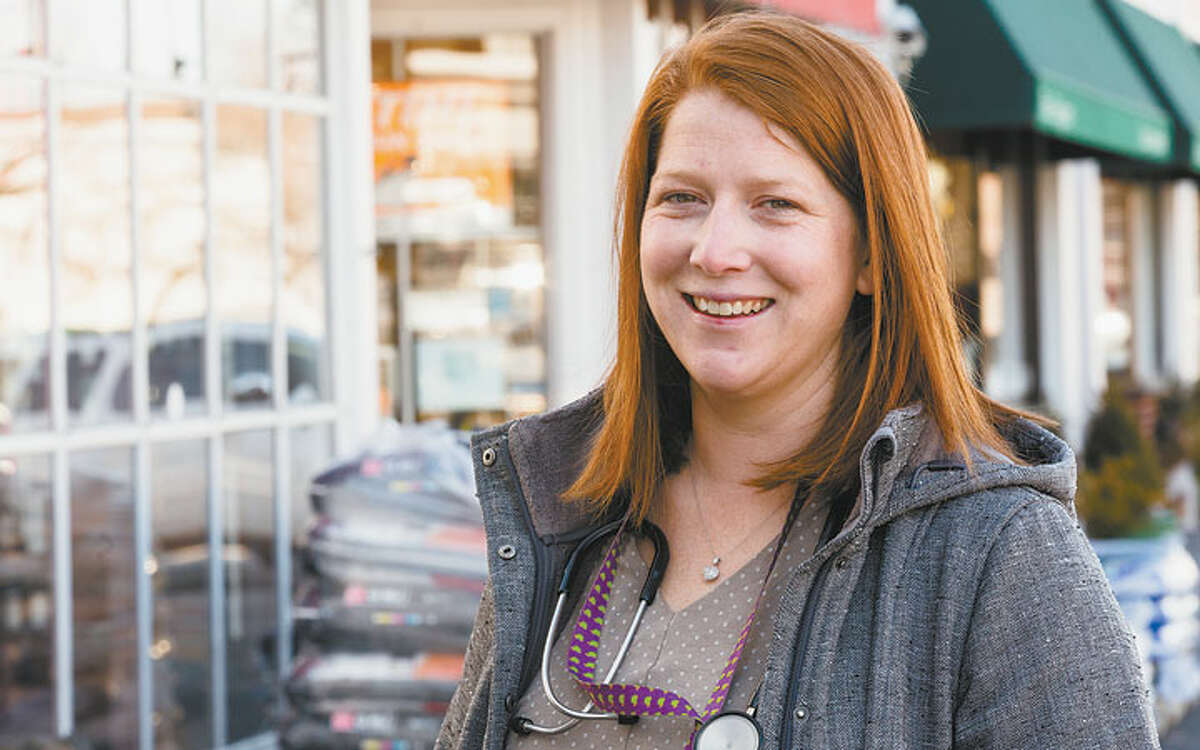 For Erin O'Rourke, becoming a nurse never had anything to do with being recognized as someone special. In fact, she's more inclined to avoid the spotlight — though that's become significantly more difficult since she was named Outstanding Clinician of the Year by the Visiting Nurse Association of America.
One of a cadre of RVNA (Ridgevield Visiting Nurse Association) nurses who work in Wilton, Ms. O'Rourke said Friday afternoon she's still surprised at the award, though her bosses aren't.
"I didn't become a nurse to be in the limelight," Ms. O'Rourke said before her supervisor, Amy Tagg finished her thought.
"Which is what makes her so amazing. For her, it's not about being in the spotlight. She's so humble because this is just what she does. It's her job. … She doesn't even know she's doing it. It comes so naturally to her."
The Outstanding Clinician award is one of the most prestigious visiting nurse awards in the country, and the winner must demonstrate an awareness of "the total person in clinical interventions — physically, emotionally, and spiritually — and make significant improvements in patients' clinical outcomes, among other attributes," the Visiting Nurse Association of America says.
"I say all the time about skills in nursing that I can teach someone how to do an IV, I can teach someone a skill, but I can't teach someone to have nursing in their heart and in their soul. Someone like Erin, who quietly shows everybody every day that nursing is in her heart, is really why she's a national celebrity," Ms. Tagg said.
After a few years of working at a hospital early in her career, Ms. O'Rourke began working with the RVNA six years ago, and says she wouldn't consider leaving her post as a visiting nurse.
"Once you go to home care, you don't go back to anything after that," she said. "I've had one patient for four and a half years. You're seeing them go from what you thought was their worst to actually doing better," she said.
The day-to-day grind of caring for 30 people can sometimes be difficult, Ms. O'Rourke said, but home care has its benefits compared to hospital work.
"There are ups and downs … but the continuity of care in a home care setting makes it rewarding to have outcomes and follow through on those outcomes," she said.
"You just have to really empathize with the people you're going to see. They're usually at their worst, you have to put yourself in their shoes. Your bad days just go away, because someone else's day is always worse," she said.
Home care workers are often forced to blur the boundaries of friend, house guest, and nurse all in one day, something Ms. O'Rourke said is a great joy of working in the field.
"The boundaries are less defined," she said. "They see me as a nurse, but I'm also a guest in their home. I have to treat them as though they've invited me in, and they can ask me to leave if they don't like what I'm saying."
Ms. O'Rourke, who lives in Ridgefield with her husband and two children, will be honored at the Visiting Nurse Association of America's annual meeting on April 22 in New Orleans.
Founded in 1914, RVNA provides home health care services, supports public health and safety, and promotes the highest quality of life in Western Connecticut 24 hours a day, 365 days a year.
Information: ridgefieldvna.org.