This is a carousel. Use Next and Previous buttons to navigate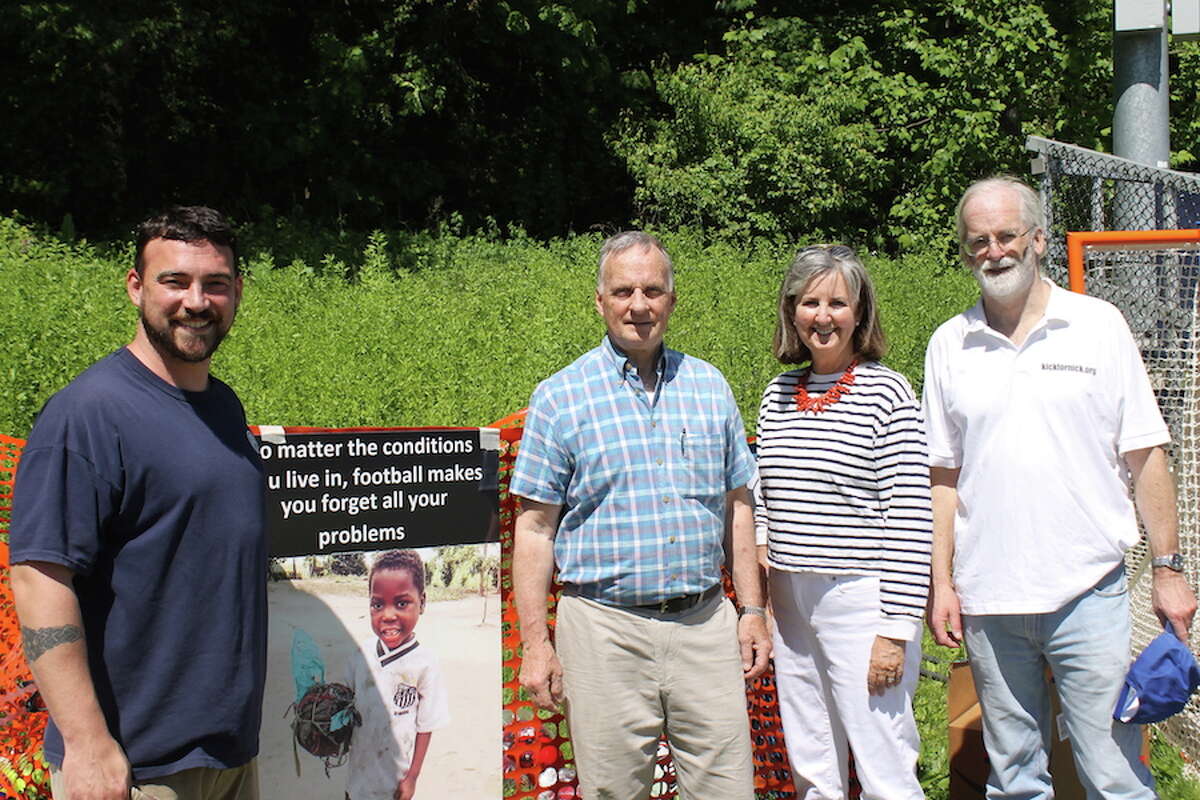 What brings a group of 33-year-old men out to play soccer on Memorial Day?
An abiding affection for their fallen classmate, Nick Madaras, and the Kick for Nick Foundation that has grown up over the last dozen years to honor him. That brought 19 former classmates and friends to Kristine Lilly Field at Wilton High School to participate in the Kick for Nick Memorial Day Soccer Challenge on May 27.
While serving in the Army in Iraq, Madaras had hoped he could collect soccer balls to give to the children there to forge a bond of friendship. He died of injuries from a roadside bomb in 2006 before he could act on that wish.
But his family and members of the Wilton community did, establishing Kick for Nick, which has sent more than 54,000 soccer balls to children in more than 50 countries. Then, two years ago, Nick's parents, Shalini and Bill Madaras, along with the foundation's board of directors, decided it was time to turn their attention to home, while continuing their work overseas.
With a grant from Dog Tag Brewing, the foundation created the Kick for Nick Soccer Academy to give underprivileged children from Bridgeport and nearby towns the opportunity to play soccer without worrying about the expense of uniforms, equipment, and club fees. The venture has been so successful, the academy was able to field a team to play Nick's former classmates.
On the sidelines Monday, Bill Madaras said one of the high-school-aged academy players told him "he'd never had his own uniform and never played on a team. We are giving these kids an opportunity we can't give the kids overseas.
"It's one more little thing we're doing to help kids who want to play soccer. … Every time we get another person and another group that is exposed to the program, it spreads."
Madaras said a coach from Southern Connecticut State University approached him about having a similar program in New Haven. The barrier is not so much the money but "finding people willing to make time to make it work. They have to be passionate about helping others," he said.
The success of the program is due, he said, to "the people who understand the good it does and their enthusiasm about soccer and helping kids."
One such person is Javier Iglesias, who was coaching the academy team on Monday. A former professional player in Spain who "coached years ago in Westchester," when he learned of the academy he was all in.
"This is my passion. This is my hobby," he said. "I think this is a great thing for Bridgeport, New Haven, Ansonia, Hamden, all the towns. We've come a long way, we're getting better every day."
Clifford Cenejuste was the academy team's captain who said he joined "because it's a really good program." Of Nick, he said, "we play for him, for his spirit."
Dan Cuddy is one of Nick's former teammates who serves on the Kick for Nick board of directors. He was at the game playing goalie, as he did in high school. He played four years with Nick at school and also coached younger players with him while they themselves were growing up.
Noting the Challenge has been taking place since 2006, "It's phenomenal for 13 years to be able to get a bunch of 33-year-old 'kids' to play soccer," he said. "We raise a little money and it's nice to do something that gives back to the community."
Of the academy, he said he hopes it makes a difference in the kids' lives. "If one of the kids we coach gets into college [because of it] we've earned it for ourselves," he said.
Another classmate, Tom Thresher, is also on the Kick for Nick board. "I was teammates with Nick and we relied on each other on and off the field," he said.
Like Nick, he served in the Army, only he was in Afghanistan. "I know the meaning of Memorial Day," he said. "I want more events like this to bring soccer to the less fortunate."
"I grew up with people looking for a purpose and a cause far away to support. But you can look 15 minutes away for a great cause and great people," the Shelton resident said.
John Brios was at the game for the Wilton Soccer Association, whose young players fielded the ball during halftime. He coaches U-11, U-12, and high school boys.
A former professional player for Club Nacional in Colombia, Brios is dedicated to helping children there play soccer. For five years, Kick for Nick has given him soccer balls and cleats to distribute to needy children in Colombia, and last year the foundation also gave him 62 bicycles so children could ride to and from school.
Game results
By the time the game was over, the alums — Wilton Blue — managed to prevail 4-2 over the soccer academy, but the MVP was Junior Baker. The 15-year-old was the first to start playing with the Kick for Nick Soccer Academy and he has attended every session since its inception, Shalini Madaras said. He attends Bassick High School in Bridgeport, which does not have the money to field a junior varsity team.
"KFN Academy gave him the opportunity to continue his skills training throughout the season. He is hoping to get on the varsity team next year," Madaras said.
Sponsorship
Sponsoring the event was Curran Volkswagen of Stratford, owned by Army veteran Sean Curran, which partnered with Weeks Auto Group of Danbury to pledge $20,000 for the event. Of that, $10,000 was a gift to support the Kick for Nick Soccer Academy and $10,000 was offered as a raffle prize. The winner was Lizzy Thresher, Tom Thresher's sister.
For more information on Kick for Nick, visit kickfornick.org.