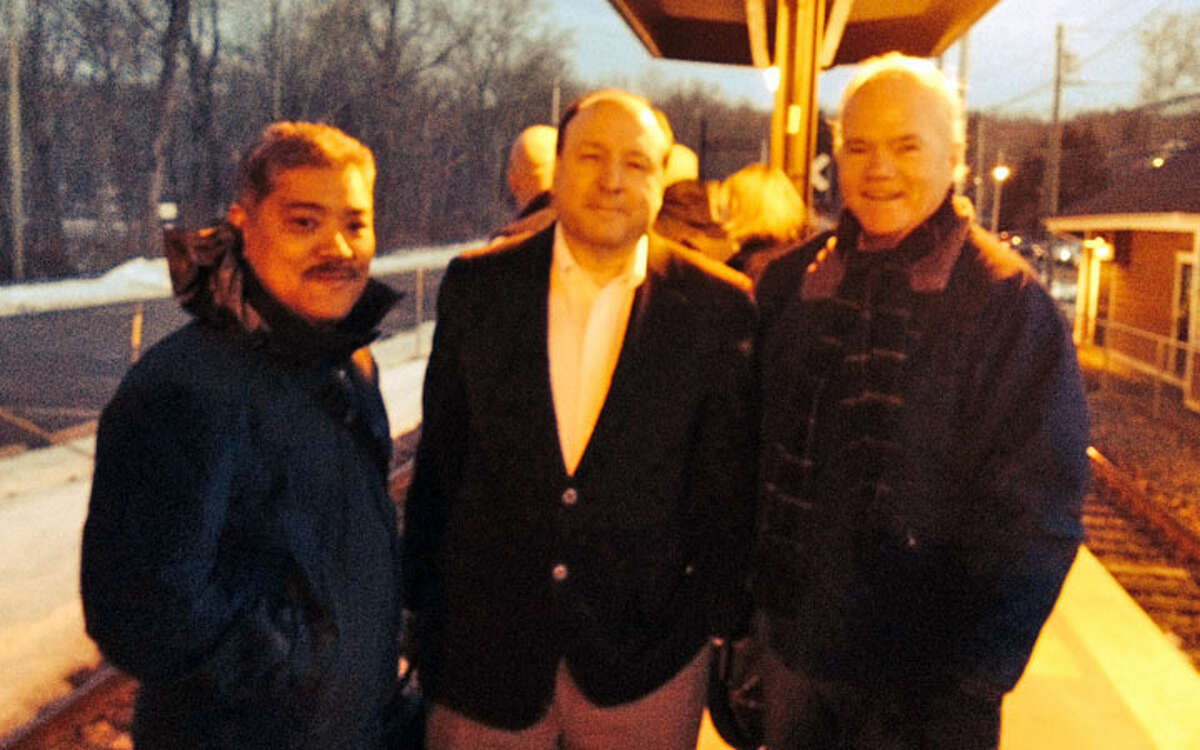 Power problems, equipment problems, late connections. Almost every day it seems as if something is going on to prevent a smooth, timely ride from Wilton to Grand Central Terminal on Metro-North's Danbury branch line. All you need to do is look at the Twitter feed.
A conversation with three veteran commuters reveals the belief that service has worsened over the years, rather than improved. It has affected their home lives as well as their professional lives.
The major complaints are the timeliness — or lack of it — and the slow pace of travel.
Nick Battista, Rich Aquan and Dave Moriarty have all been commuting into New York City for years and all take the 6:45 out of Wilton, which is supposed to arrive in New York at 8:08 a.m., but they say it is closer to 8:15 or even 8:20. For this they pay $343 a month, $336.14 if they buy their tickets online.
Mr. Aquan has been riding the New Haven line for 26 years, the last 18 from Wilton.
"It's really gotten worse," he told The Bulletin, stressing the problems of the last few months. "In two weeks my 90-minute train ride turned into three and a half hours. We ran the gauntlet of events, from hitting cars, someone jumping in front of a train, a fire."
But all that aside, the system, he said, is stacked against commuters. For example, there is often a holdup in the tunnel leading into Grand Central. "If there is a train that's due that's late, they will hold up the others. It's a waiting game. The last couple of months have been really bad. The worst it's ever been."
Dave Moriarty agreed. "I moved here in '93. I'm 117 years old now," he said with only half a laugh. "If you were on the train in 1959 and went into a coma and revived yourself last week you'd think two days went by.
"I just sort of take it, but it could be a lot better."
He acknowledged that Metro-North "has had a very rough stretch," adding, "at least we didn't go up in a flaming fireball. That's the bar."
Again, time is of the essence when riding into the city, although heat in the winter would be nice as well.
"We expect it to be on time and get there on time. Otherwise I've got to explain at work. I've lost credibility saying that," he added. An IT consultant, Mr. Moriarty makes a lot of conference calls. "I used to have 8:30 calls, but I don't trust it anymore. I don't make any calls until 9. It's not a world where you can stroll in late anymore, particularly if you are a consultant."
But it goes beyond work. "It hurts me here … going home," he said. "I don't plan on anything anymore. I can't hold up my end of stuff. It's 6 in the morning, I'm trying to support our world in Wilton. There's a lot of us on that train."
According to the Connecticut Department of Transportation, an average of 2,600 people ride the Danbury branch line on a weekday. That's roughly 650,000 riders over the course of a year, not including weekends.
Mr. Battista also feels the stress at work. "I used to make 8:30 meetings. I can't make them anymore," he said, noting he has a 15-minute walk after he gets off the train.
When he moved here 24 years ago, the ride was one hour, 17 minutes. Today it is supposed to be one hour and 23 minutes, but it is often closer to 90 minutes.
"The average speed is 33 mph," Mr. Battista said. "Open the bloody throttle! The exasperation [on the train] is palpable."
If the train were to average 45 mph, Mr. Battista said, the ride would be just 65 minutes. "That would be perfection," he said.
It is especially frustrating for Mr. Battista because he travels for his job and often rides superior trains in Europe and Japan.
"They have to address equipment breaking down," Mr. Aquan said. "I think the other lines are treated better than Danbury. … The spur lines are sort of abused." He added that one rider he knows keeps track of the engine numbers because some break down more than others.
Mr. Moriarty agreed that the branch lines get short shrift, asking why there are plans to spend millions on commutation around Hartford. "There's not a big commuting crowd to Hartford compared to Fairfield County," he said. More than 39 million riders use Metro-North's New Haven line each year.
Future plans