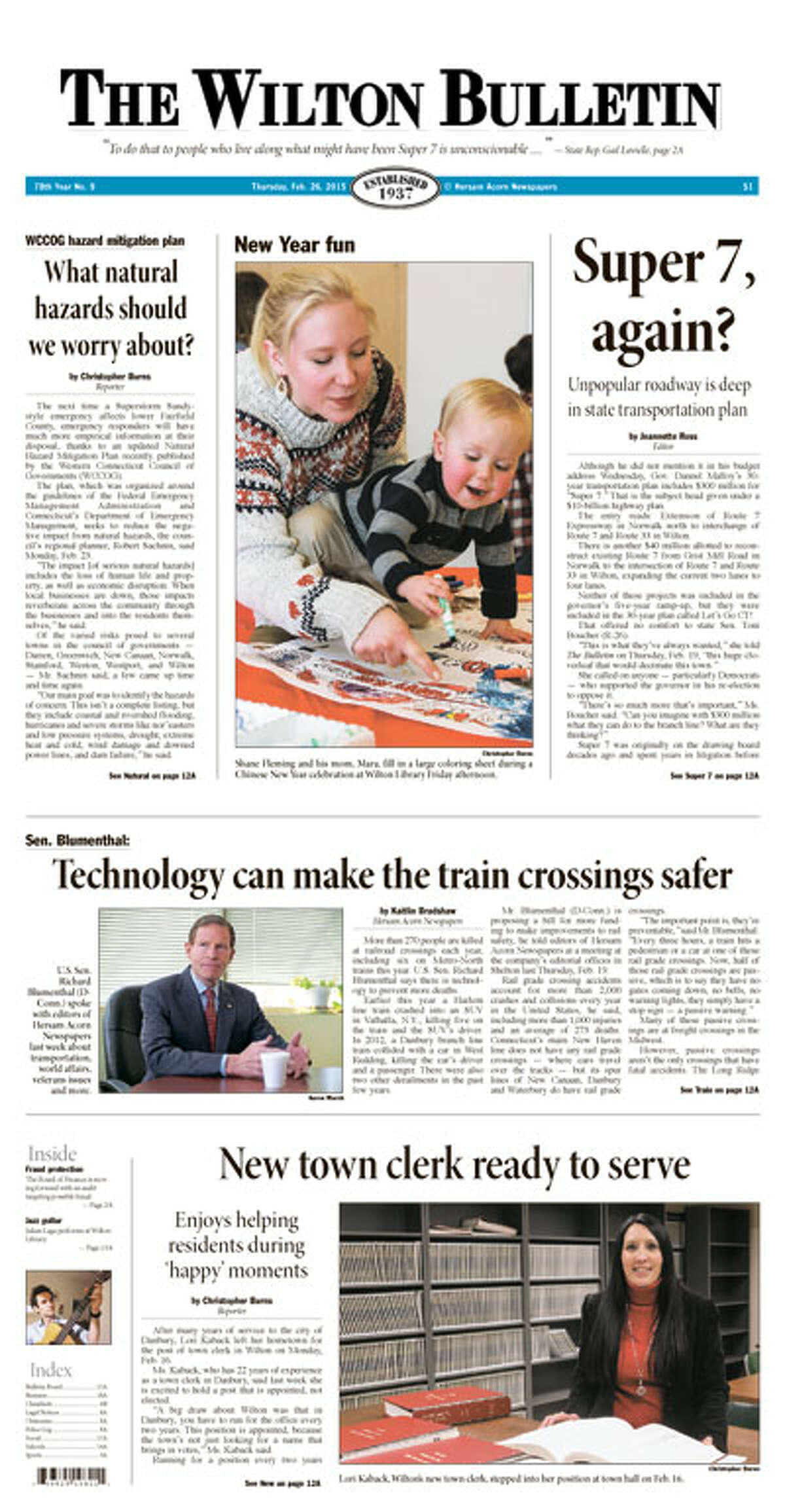 Here are some of the stories and features in this week's Wilton Bulletin, in mailboxes and on newsstands today:
News
• Super 7, again? Unpopular roadway is deep in state transportation plan.
• Sen. Blumenthal: Technology can make the train crossings safer.
• New town clerk is ready to serve.
• What natural hazards should we worry about?
• Legislative Update: Revamping affordable housing, A call for 'clean elections,' Supporting English language learners.
• Finance board approves fraud risk assessment.
• News Notes: Niddy-noddies.
• Parks and Recreation's spring/summer brochure is now available.
• Sensible Wilton is weighing options.
• Wilton's registrars of voters conducted their annual voter registration drive at the high school.
• Giving Day goal: $1 million for nonprofits.
• Nickel fund's reach felt by many.
• Wilton Bulletin editors honored at NENPA conference.
• Super 7 and Danbury line in vogue at legislative breakfast.
• A number of people attended the snowshoe walk through Cherry Lane Park.
• First selectman addresses fiber plan.
• New food show joins HAN Radio lineup.
• Bianco Rosso Wine Bar owner donates $500 to Project 2016.
• Kimco adds two signs in the Center.
Schools
• District works to strengthen technological security and controls.
• Four Wilton students named Merit finalists.
• Activity nights at Middlebrook on March 6 and 20.
• Trackside hosts a sixth-grade night on March 6.
• Wilton High School second quarter honor roll.
• Warrior Words: The beauty of a snow day.
• Student Briefs: Clemson University, Emerson College, Ithaca College.
Opinion
• Editorial: Reporting abuse.
• Editorial: Eye on the prize.
• From the Firehouse: Someone dial 9-1-1!
• Letter: Republicans seek to fill committee opening.
• Letter: Town officials should resign.
• Letter: Back to normal in Wilton.
• Letter: Thanks for anonymous roadside assistance.
• Letter: Giving to Stay at Home in Wilton on March 5.
• Letter: Town will pay for this 'fiasco.'
• Letter: Bent rules, mistakes in judgment.
• Letter: Well done, Sensible Wilton.
• Letter: Ignoring illegal actions.
• Notes From the Board Table: Examining policies
• A View From Glen Hill: Injecting civility in our society.
Business
• Low prices won't affect oil company profits.
• BHHSNE Wilton has a new leader.
• Berkshire Hathaway real estate agent Katie Nugent named January's sales executive of the month.
• Bistro Seven co-owner Breno Donatti sells his share in the business to his partner, Matt Criscuolo.
Social
• Focus '15 judges are announced and the entry deadline is this weekend.
• Jazz guitarist Julian Lage performs at Wilton Library.
• Wilton Historical Society hosts knitting workshops next month.
Obituaries
• Joseph Frank Oleksy.
• Harold A. Chase Jr.
• Raymond Charles Black.
• Adrian (Dick) Winstel Jr.
• Marcia Spivak.
Sports
• Ridgefield girls basketball team stuns Warriors in FCIAC semifinals.
• Ludlowe nabs second seed; Wilton High boys basketball player Matt Shifrin scores 1,000th point.
• Spencer Brown wins State Open indoor track and field championship.
• Wilton High School girls soccer coach resigns.
• Nick Rende, of Wilton High School's wrestling team, advances to next weekend's State Open.
• Wilton High School boys swim team lose to Ridgefield, 105-73.
• Wilton High School gymnastics team returns to form in final meet before states.
• Wilton High School boys hockey team notches road wins.
• Eight Wilton Y Wahoo swimmers recently competed in the Arena Pro Series in Orlando, Fla.
• Wilton paddle tennis tourney takes place March 21.
Arts & Leisure
• Some hibernate, but many don't: the Beardsley Zoo in Bridgeport has lots of activity, even when it's cold and snowy. Zoo director Gregg Dancho invites people to bundle up and come stroll the grounds.
• Roast a batch of tomatoes and make some soup, advises the Conscious Cook Robin Glowa.
• Joe Pisani (Did I Say That?) is worried about robots, in particular vacuum cleaners.
• The Reel Dad recommends seeing Two Days, One Night, with a magical performance by Oscar nominee Marion Cotillard.
• The 2015 Volkswagen Golf TSI sports European manners, says test driver Steven Macoy.
• The Wilton Bulletin is on Facebook — become one of our 909 friends and get news updates. Facebook.com/WiltonBulletin.
• 2, 690 people have signed up for Wilton Bulletin news bulletins via Twitter. You can, too, by stopping by twitter.com/WiltonBulletin.