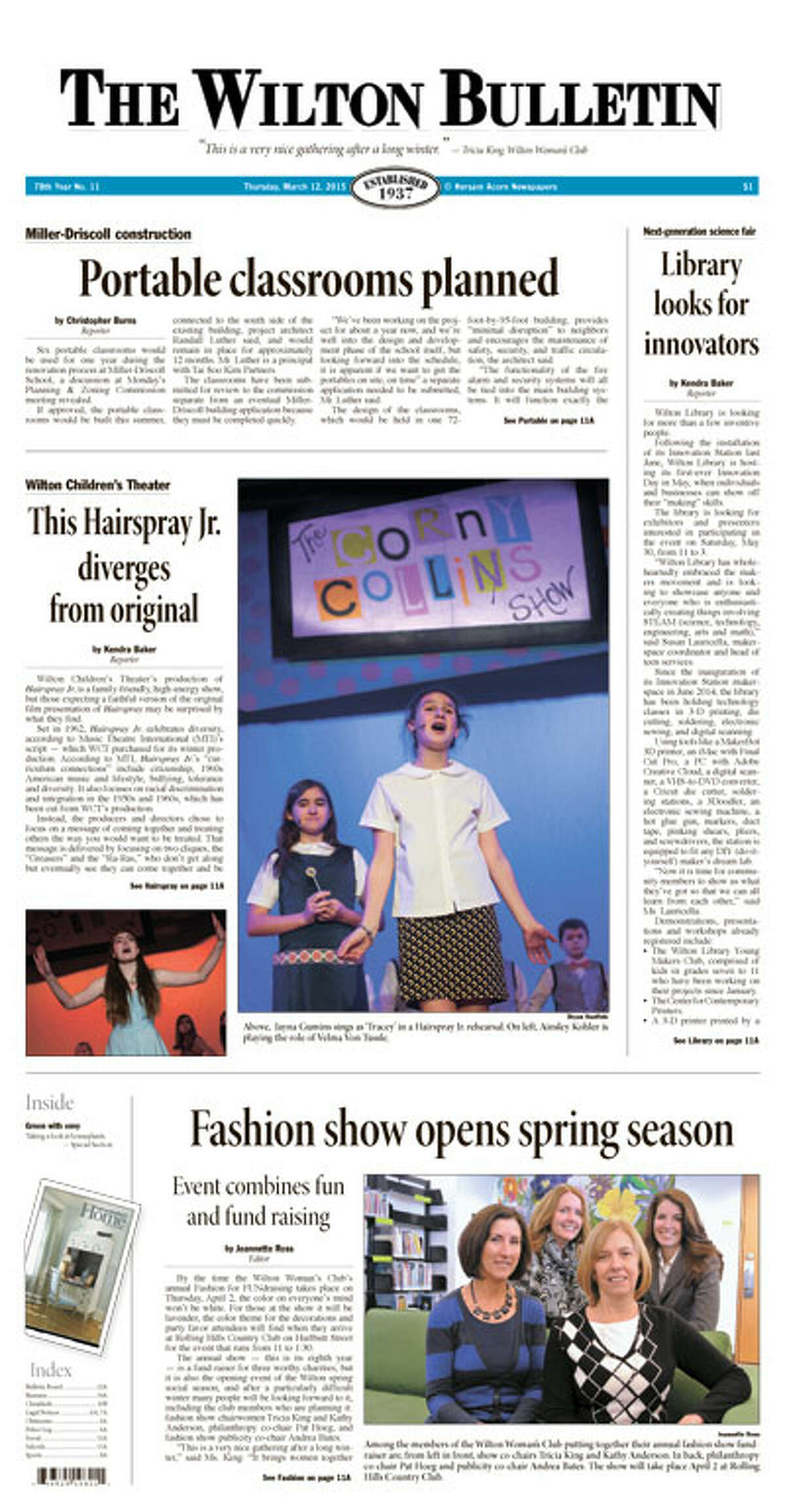 Here are some of the stories and features in this week's Wilton Bulletin, in mailboxes and on newsstands today:
News
• Miller-Driscoll construction: Portable classrooms planned.
• Library hosts its first-ever Innovation Day in May.
• Thief steals donation box from Our Lady of Fatima.
• Former Wilton resident heads first-of-its-kind hospice center.
• Wilton Children's Theater's Hairspray Jr. diverges from original.
• Fashion show opens spring season.
• Senior center welcomes new tai chi instructor.
• Chris Brubeck joins orchestra as artist-in-residence.
• Wilton police announce annual awards ceremony.
• Series looks at fostering community among youth.
• Nature center celebrates spring with egg hunt.
• Adult Eagle Scouts came together.
• Interest on tax deferrals may be tied to borrowing rate.
• Police Log: Providing alcohol, DUI and fouled cell, Evading, Stolen identity, IRS fraud.
• News Notes: Connecticut chickens, Giving Day results, Caregivers.
Schools
• Warrior Words: A gentleman's game.
• Eighth graders to compete in cooking competition.
• Our Lady of Fatima: Program teaches students proper etiquette.
Opinion
• Editorial: Visible numbers.
• Letter: Good news from Dr. Keating.
• A View from Glen Hill: All in a school day.
• WVAC 911: What landlines can do that cell phones cannot.
• Letter From Hartford: Breaking Connecticut's transportation impasse.
Business
• Cannondale Generators wins CBIA/Westfair annual award.
• Green Maid opens in Georgetown.
• Home sales drop statewide in January.
Social
• Shows celebrate history-inspired handwork.
• Luncheon features senior entertaining seniors.
• Kiwanis luncheon on March 18.
• Wiltonian will speak at next installment of Writing Women's Lives on March 20.
• Concert celebrates the Irish.
Obituaries
• Ralph Albin Yarosh.
• Nick Holloway Jr.
Sports
• Wilton High School girls basketball team advances with two wins.
• Wilton High School boys basketball team routs East Haven in state opener.
• Wilton High School boys hockey team falls to North Branford in first round.
• Five Wilton High School gymnasts qualified for last weekend's State Open.
• Wilton High School girls ski team placed fifth and boys team placed ninth at State Open championship.
• Wilton High School junior Liam Smith finished seventh in men's foil at state fencing championships.
• Wilton Youth Wrestlers Griffin Morris and Max Mannino placed fourth at state meet.
• Wilton High School sophomore Ian Sanders qualifies for July fencing challenge.
• Registration ends March 14 for Wilton paddle tennis tourney.
• Youth cheerleaders win NECA championship.
• RAHA's Bantam A team won the CHC Tier 3 state championship.
• PeeWee/Bantam Black team won the Ridgefield Jaguar House League Championship.
• Wilton fifth grade boys basketball team won the Fairfield County Basketball League A Division championship.
Arts & Leisure
• After a long run of musicals at Ridgefield High School directed by Joyce Flanagan, this year's Sweeney Todd Student Edition will be the grand finale: for "Flan" as well as a group of parent volunteers.
• It's not just St. Patrick's Day that has Robin Glowa, the Conscious Cook, thinking about green.