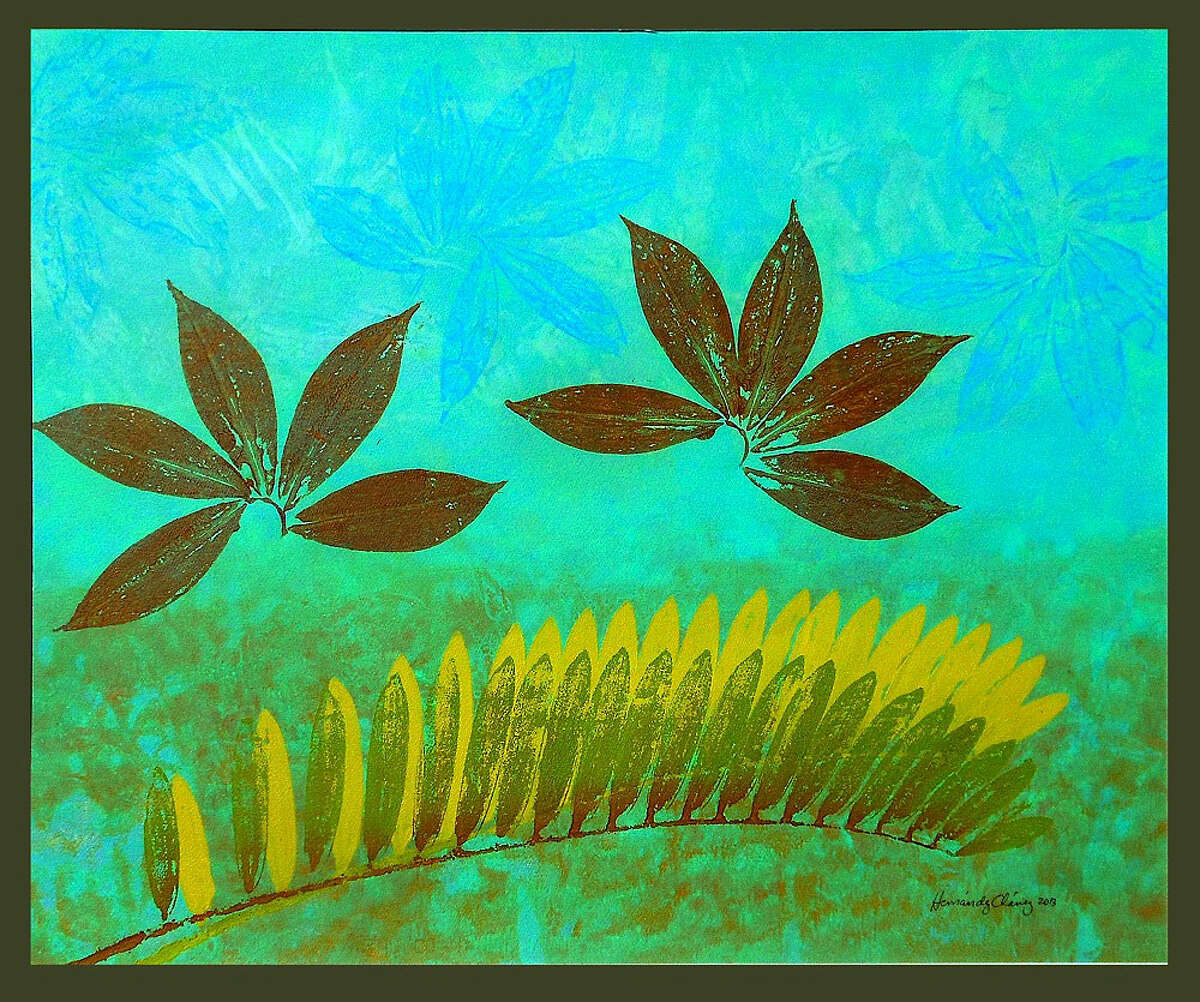 Anyone needing relief from the relentless gray of winter into spring may visit Wilton Library for the warmth and vibrancy of Carlos Hernández Chávez's paintings now on display. "Dialogues-Impromptu Conversations in Color" opens with a reception Friday, April 10, from 6 to 7:30 p.m. with more than 30 works in this one-man show.
According to Hernández Chávez, "From my earliest memory, color has always been my guide and companion in discovery. It has been there silently, an undeniable presence in everything that I see and do."
Hernández Chávez's work has combined powerful social and political elements with a potent aesthetic sense. His art spans four decades and, both physically and metaphorically, it crosses borders, continents and oceans. He has been immersed in the arts starting from his early years in Mexico where he was born and attended the prestigious UNAM/Escuela Nacional de Artes Plásticas at Academia de San Carlos; and INBA's School of Painting and Sculpture at La Esmeralda, in Mexico City. After receiving his highly disciplined arts training, Hernández Chávez's quest for creative and personal exploration brought him to Connecticut in 1967. Soon after his arrival, he became active in the arts scene, exhibiting his work and performing, as well as being a dedicated advocate for artists' and human rights.
Four sitting Hartford mayors, two Connecticut governors, and a member of Congress, among others, have publicly honored Hernández Chávez's artistic and humanitarian work. He currently serves as chair of the City of Hartford's Commission on Cultural Affairs. The artist's paintings and murals are on permanent display at cultural, educational and social institutions and in private collections in his native Mexico, the United States, Greece, Puerto Rico, and the United Kingdom. He also is an accomplished photographer and musician, both skills self-taught.
When thinking about this upcoming exhibition, Hernández Chávez said, "With a wooden plank on the floor as my easel, and surrounded by tropical beauty, the spontaneous compositions and colors flowed undisturbed, seemingly without end. It was all of these silent exchanges that gave this exhibit its title, conversations with the universal, nurturing power of color that I hope will resonate with the viewer."
The reception is open to the public. The majority of the paintings will be available for purchase with a portion of the proceeds benefiting the library. The exhibition runs through Monday, April 27.
Information: wiltonlibrary.org or call 203-762-3950, ext. 213.