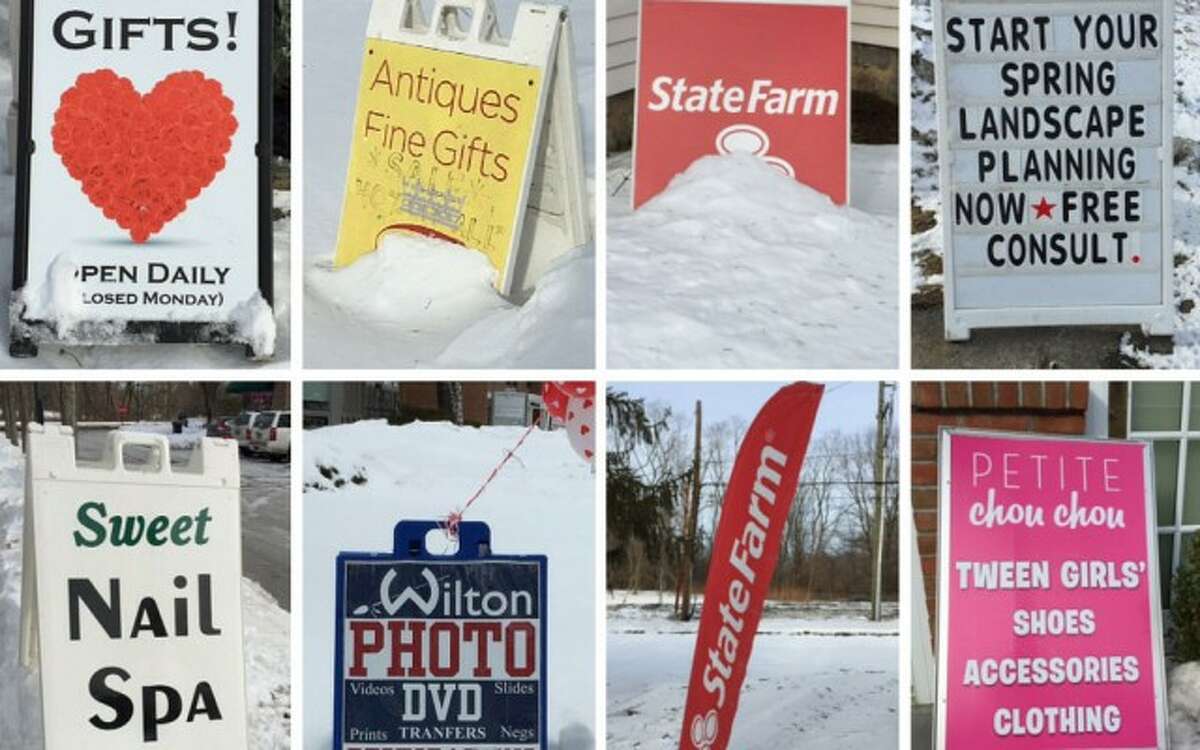 Though the Chamber of Commerce has heard grumbling about business sign regulations in recent months, its executive director says she hasn't yet received official complaints from any Wilton businesses on the matter.
Janeen Leppert, executive director of the organization that has been asked by the Planning and Zoning Commission to collect input about business signs in town, said Monday afternoon that "no one is knocking down our door."
"We asked our members to submit thoughts and ideas, but so far we haven't gotten any official statements," she said. "There's nothing in writing yet."
Those who have information or comments to share, Ms. Leppert said, may email her directly at janeen@wiltonchamber.com. The comments will be shared with the commission during a public forum planned to be held "in the next few months," an email from the Chamber says.
The Planning and Zoning Commission asked the Chamber to collect comments after Megan Labant Abrahamsen, owner of Blue Star Bazaar, began advocating for an updated sign plan last year.
She said Friday she hasn't been able to submit comment to the Chamber yet, but has a number of ideas on making Wilton's regulations more hospitable to small businesses.
Ms. Abrahamsen said more than 20 businesses on Route 7 and in Wilton Center use sandwich boards that are not in compliance with the town's regulations.
"I would love to see a system implemented so sandwich board signs are allowed in a more attractive and structured way, instead of letting it go until it gets really bad."
Currently, the use of a sandwich board sign carries the possibility of a $100 fine for a business.
"Businesses have obviously determined [the fine is worth it] to increase traffic from the signs. If they get one fine, it's $100. As long as they've had $100 in revenue during that period, then it was worth it."
She suggests the town adopt an official "template" for the sandwich boards to give a uniform look across Wilton.
"Take Wilton colors, put them together and make an attractive template at the top of every sandwich board sign that says, 'Shop Wilton.' People will be able to recognize it as a locally owned business, and it's not as jarring to the eyes," she said.
Referring to businesses around the back of buildings and in awkward locations, "at least people know where the businesses are when they're driving around town, and it gives parameters for people when they go put out a sign."
Ms. Abrahamsen has not been the only business owner to tell The Bulletin the town's regulations are too strict. Johnny Wilson, the owner of the now-closed Burrito Shack, moved his business to Newtown three months ago.
One of the main reasons for the move was the town's inflexibility on his trademark sandwich board signs.
After the town began enforcement of rules that prohibited his well-known roadside signs and his use of a neon "open" sign, "people thought we were closed, or had closed down for good," he said in December.
"I'm already in a tough spot, because this is a pretty dead part of Route 7," he said.