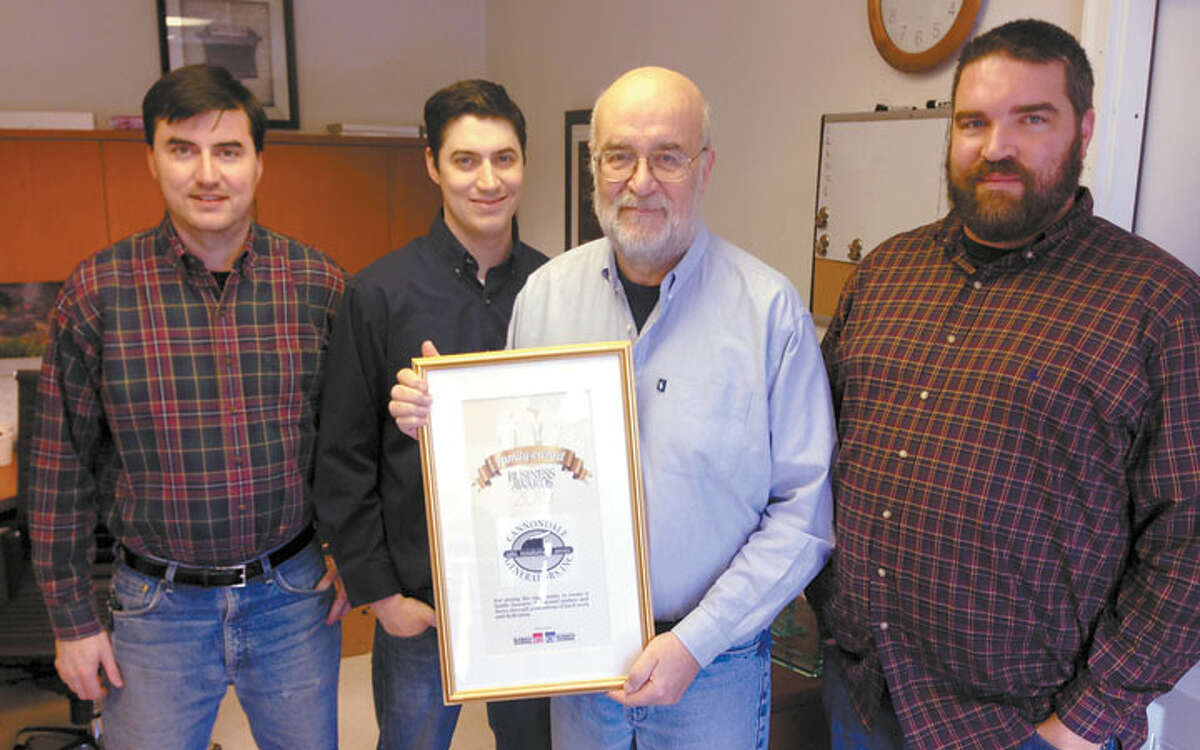 Since they were middle schoolers in the 1990s, the Bonomo boys have been helping their dad out at their family-owned Cannondale Generators on Danbury Road.
"They kind of came along after they graduated from college," founder Paul T. Bonomo said of his sons Friday afternoon, "and they've been working here ever since.
"But even before that, it was not unusual for me to drag them out of bed in the middle of the night to have them hold my flashlight for me," he added with a smile.
Though operating a family business has had its "good times and bad times," Mr. Bonomo said, he, his wife and his sons have had a great deal of success working together.
This year, Cannondale Generators was named the Connecticut Business Industry Association's top family-owned business in the state, an award sponsored by Westfair Communications. "Family-owned businesses are the backbone of the local and national economy, accounting for 50% of the U.S. gross domestic product and generating 60% of the country's employment. They also account for 78% of all new job creation and comprise 80% to 90% of all business enterprises in North America," the publishing company said in announcing the awards ceremony.
"It started with just my mom and dad," Paul A. Bonomo said, "and now we have 25 full-time employees working in Litchfield, Putnam, Westchester, and New Haven counties."
An excellent foundation of customer-oriented service is important for a company expected to work its hardest during hurricanes and ice storms, the owners said, though those emergencies can put a wrench in providing perfect service to every possible client.
"During Hurricane Sandy, we had calls from people from Maine to New Jersey, to Long Island, to Pennsylvania, looking for help and generator service," the elder Mr. Bonomo said.
"There were 900,000 homes out of power during Sandy. It's like a hospital during a natural disaster. … All of a sudden you have to do all that you can. You take who you can, and you do what you can."
That Cannondale takes such care to treat its customers with respect made it perfect for the family-owned business award, Mr. Bonomo added.
"During the hurricanes, when every single generator is operating, it's 20-hour days, seven days straight. When a generator is needed, they're all needed at the same time," giving a small business little option but to just keep working, and working, and working until they're all fixed.
Cannondale does the vast majority of its business with residential clients, not large buildings like hospitals.
"We do a lot of business with electricians, contractors and other tradesmen," Mr. Bonomo said. "We maintain good relationships with builders so when their customer comes to them wanting a generator, they come to us and we make it easy for them. They don't actually have to take the 3 a.m. call when they use us. That is what has been successful."
Cannondale Generators provides installation and repair services for all kinds of residential generators, running up to 50,000 watts for very large homes.
The company is a dealer and has factory-trained technicians for Generac, Kohler, and Cummings generators — and has worked with hybrid generators in the past.
Information: 203-762-2608.